This is a 2 Day Tour. One day spent in Perth, one day on cruise and in Fremantle
TRIPLE TOUR PLUS PRISON & LUNCH!
The Best 2 days in Perth & Fremantle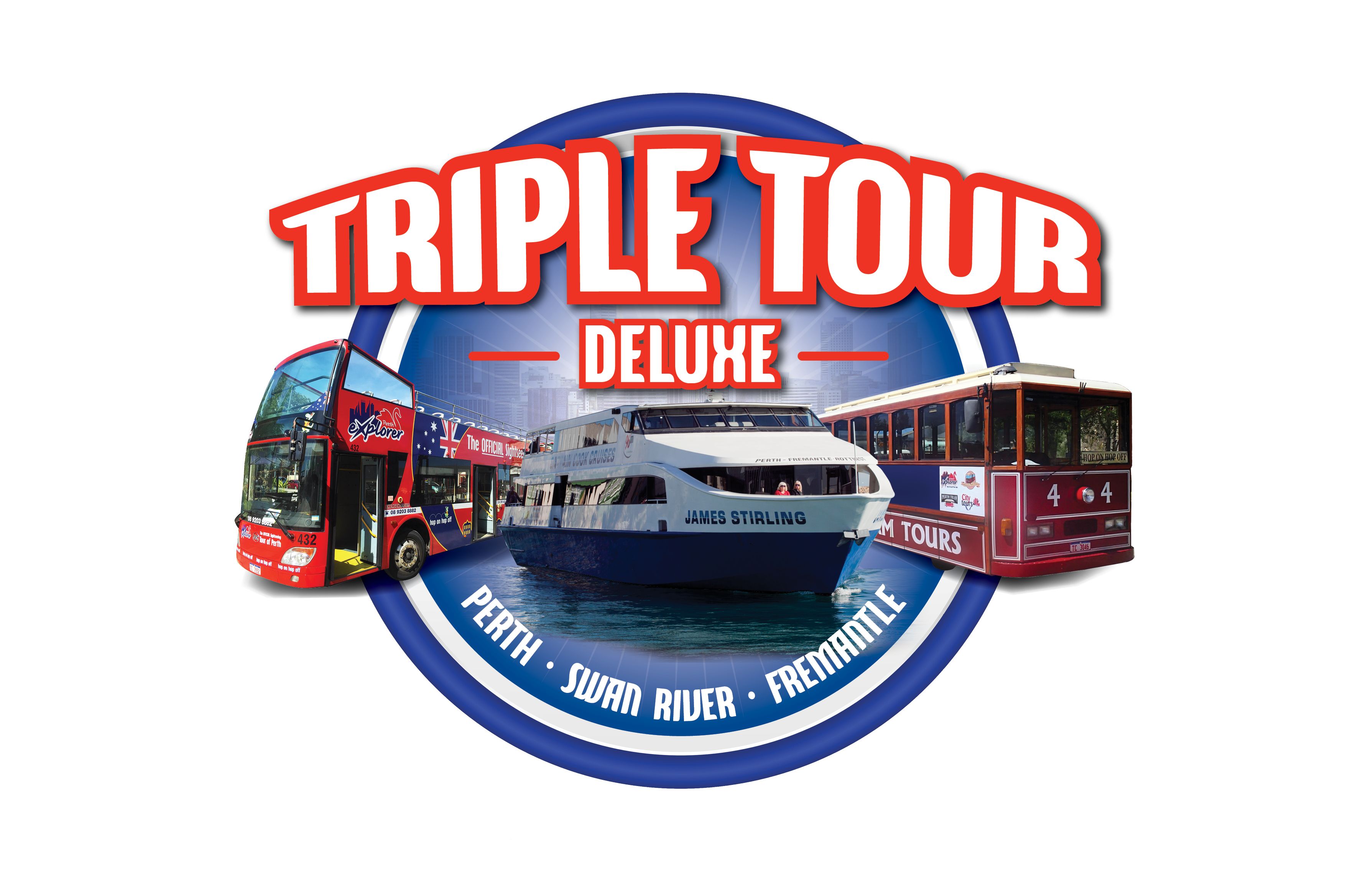 TOUR DESCRIPTION
The Triple Tour Deluxe
Our ever popular Triple Tour plus....
A Fremantle Prison Day Tour
Lunch at Cicerellos in Fishing Boat Harbour including a drink
48 hour Perth and Kings Park Open Top Bus Ticket
Captain Cook return cruise to Fremantle
Fremantle Tram hop on hop off tour
A fully escorted tour around Fremantle Prison
Lunch at Fishing Boat Harbour
Informative and entertaining commentary on all tours.
Flexible Choice for the Fremantle & Perth Days
MORE INFORMATION
PERTH: RIVER CRUISE: FREMANTLE : FREMANTLE PRISON: LUNCH AT FISHING BOAT HARBOUR
How to complete the Triple Tour Deluxe
PLEASE NOTE - THIS IS A 2 DAY TOUR
ON THE FIRST DAY
Jump on board Perth Explorers tour around Perth & Kings Park at any of the 12 convenient stops around the Perth city. Either stay on all the way round and complete the tour (approx 2 hrs) or make a day of it using the hop on hop off facility
Multi lingual commentary available in English; French; German; Spanish; Malay; Indonesian; Mandarin; Japanese and a children's channel ( in English)
ON A DIFFERENT DAY (Does not need to be the next day - you can split up the days within a 2 week period)
8.30am Swan River cruise on Captain Cook Cruises to Fremantle
Fremantle Tram Tours will meet the ferry and tour you to your first stop at Fremantle Prison
Enjoy a fantastic guided tour around the prison
Jump back on board the Fremantle Tram to Fishing Boat Harbour
Lunch at the famous Cicerellos restaurant overlooking the Harbour
Enjoy some freetime in Fremantle
Arrive back in Barrack Street Jetty at 5.45pm
Start and finish at Barrack St Jetty - 8.30am - 5.45pm
Please also note that the 2 days DO NOT need to be consecutive days and you can start with either the Perth or Fremantle section